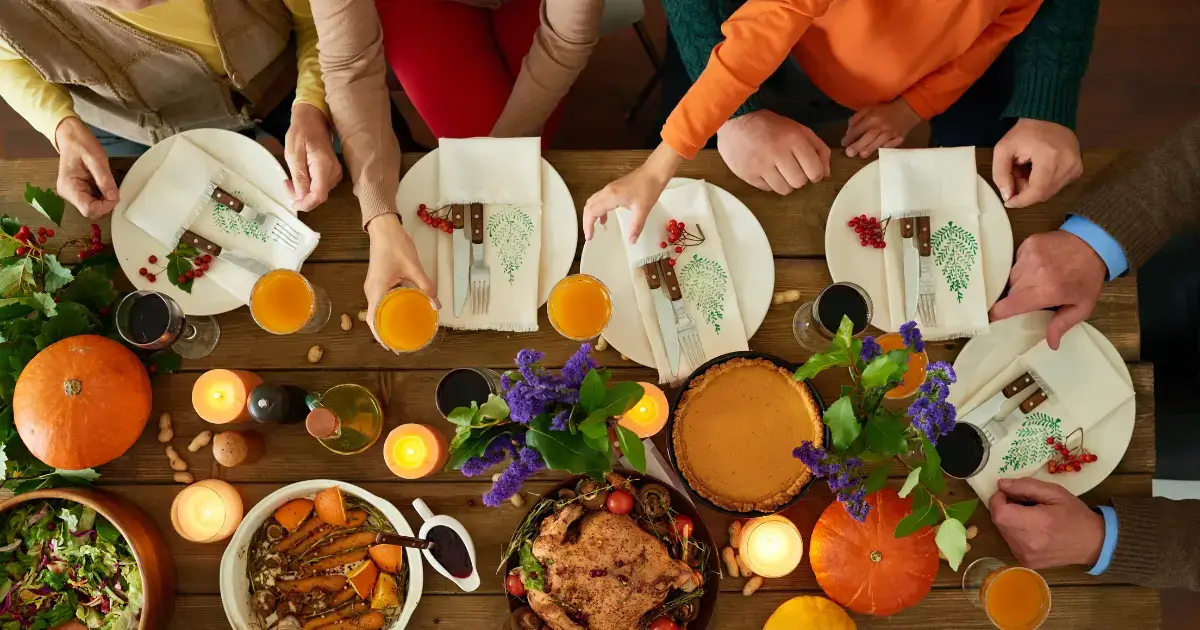 Thanksgiving is a time-honored tradition that resonates deeply in the heart of every American and is a recent trend that is spreading its impact across continents. As we approach Thanksgiving 2023, there's a perceptible excitement in the air. How will this year differ from previous ones? How can we make it memorable?
Get ready to have an epic Thanksgiving celebration with this blog! Discover the fascinating history and essential components of this festive occasion, and get ready to create long-lasting memories with your loved ones!
A Glimpse into Thanksgiving 2023
Thanksgiving 2023 promises to be an unforgettable year. As technology continues to reshape our world, families are seeking more personalized and meaningful experiences. Virtual reality might let distant family members "sit" at the same table, and AI could offer personalized recipe suggestions.
But amidst these advancements, the essence of Thanksgiving remains unchanged: a time of gratitude, togetherness, and sumptuous food.
The Legacy of Thanksgiving
The history of Thanksgiving is a tapestry of tales interwoven with gratitude and community spirit. Pilgrims and Native Americans came together in harmony, laying the foundation for a holiday that's become synonymous with unity. This history reminds us that even in challenging times, there's always something to be thankful for.
Making the Most of Thanksgiving – Activities & Traditions:
Things to Do on Thanksgiving:
Apart from the delightful feast, there are countless things to do on Thanksgiving. Volunteer at local shelters, giving back to those less fortunate. Engage in family storytelling sessions, diving into ancestral tales and personal adventures.
Thanksgiving Games:
After feasting, it's time to have some fun! Thanksgiving games like 'turkey trot' and 'thankful charades' add laughter to the occasion. Engage in friendly competitions and create cherished memories.
Thanksgiving Crafts – Bringing Creativity to the Forefront
Thanksgiving crafts provide an opportunity to engage in hands-on activities, adding a personal touch to the celebrations. They're not just for kids; adults can also partake in the fun! Consider crafting your own wreath for the front door using fallen autumn leaves, or creating hand-painted placeholders for the dining table.
Have you considered creating a festive banner or garland? The DIY trend is becoming increasingly popular, and Thanksgiving crafts can be a great way to motivate yourself to create something from scratch. Not only is it a fun activity, but gifting your creation to your loved ones can also give them something to cherish for a long time.
With endless online tutorials available, you can discover a myriad of craft ideas suitable for all age groups. Crafts not only beautify your space but also serve as an excellent bonding activity for families.
A Feast for the Senses – The Thanksgiving Menu
Thanksgiving Food List:
As Thanksgiving 2023 approaches, it's crucial to have your Thanksgiving food list ready. While turkey, cranberries, and pumpkin pie are staples, introducing contemporary dishes can spice things up.
Top 10 Thanksgiving Foods: Curious about the must-haves? Here's a sneak peek into the top 10 Thanksgiving foods for 2023:
1. Herb-marinated roasted turkey
2. Garlic mashed potatoes
3. Cranberry and walnut stuffing
4. Spiced pumpkin pie
5. Green bean almondine
6. Sweet potato casserole with a pecan topping
7. Creamy cornbread
8. Bruleed pear tart
9. Honey-glazed carrots
10. Red wine-braised brussels sprouts
The Evolution of Thanksgiving Foods
As we trace the history of Thanksgiving, we discover that the original feast was vastly different from our contemporary spreads. While turkey holds the crown now, seafood and venison were staples back in the day. Over the years, regional dishes got incorporated, and new culinary trends added a modern flair.
This evolution is what makes the Thanksgiving food list so diverse and fascinating. As we approach Thanksgiving 2023, fusion dishes like spicy cranberry salsa or truffle-infused mashed potatoes are making waves. The beauty of Thanksgiving lies in its adaptability, accommodating both tradition and innovation.
Thanksgiving Traditions
While each family has its unique Thanksgiving traditions, the core essence remains the same: gratitude and love. Be it watching the Macy's Parade, breaking the wishbone, or expressing thanks before the meal, traditions make the celebration special.
Thanksgiving Traditions – Old & New
Thanksgiving traditions are the soul of the celebration. Whether it's sharing what you're thankful for, watching football, or engaging in post-meal games, these rituals bring people together. For many, setting a "thankful table" where everyone pens down what they're grateful for has become a cherished custom.
As we look forward to Thanksgiving 2023, it's exciting to ponder what new traditions might emerge, blending seamlessly with the old.
Friendsgiving – A Modern Twist to an Age-Old Tradition
In recent years, Friendsgiving has gained momentum as an alternative, or sometimes a precursor, to the traditional Thanksgiving gathering. It's a unique occasion, primarily celebrated by friends who come together to share a meal, just like families do. With the hustle and bustle of modern life, not everyone can make it home for Thanksgiving. That's where Friendsgiving steps in, ensuring no one's left out of the festivities.
The concept is simple: friends gather, each bringing a dish, and celebrate their own version of Thanksgiving. Sometimes, it's a potluck, sometimes, it's themed, but it's always fun.
Potluck-style Thanksgiving – Making Every Dish Count
Potluck has always been a beloved concept, but with the evolution of "potlucker" trends, it's becoming more organized and delightful. Potlucking for Thanksgiving is ingenious. Instead of one person shouldering the entire culinary responsibility, everyone gets to showcase their cooking prowess. From appetizers to desserts, the array is diverse, and the meal is splendidly communal.
Planning a potlucker-themed dinner can be overwhelming, but with a little bit of effort, it can be a great success. We all want to avoid the situation where we end up with four variations of mashed potatoes. That's why having a potlucker-themed Thanksgiving food list can make a huge difference. It not only ensures variety but also helps to avoid repetition, making everyone's experience more enjoyable.
Counting Days – How Long Till Thanksgiving?
The anticipation is always electric. As days turn to hours and hours to minutes, the excitement of Thanksgiving grows. Every year, many find themselves googling "how long till thanksgiving". The countdown not only amplifies the excitement but also aids in preparation. Whether it's for travel plans, shopping lists, or just pure exhilaration, the countdown is a fun way to build up to D-day.
Gearing Up for Thanksgiving 2023 – Tips and Tricks
Preparation is key to ensuring a stress-free and joyous Thanksgiving celebration. Start early by finalizing your guest list and sending out invites. When it comes to shopping, spread it over a few weeks to avoid last-minute rushes.
For those embracing the potlucker trend, coordinating with guests is crucial. Use online platforms to create shared lists, ensuring variety and avoiding dish duplication. And most importantly, remember to take a moment amidst the hustle to reflect on the essence of Thanksgiving – gratitude.
Making the Most of the Festive Season with Black Friday and Coupons
As Thanksgiving approaches and we're all immersed in the spirit of gratitude, it's also time to gear up for the next big thing – Black Friday! And trust me, this year promises to be bigger and better than ever.
In my previous blogs, I've detailed some unbeatable deals and jaw-dropping sales that are on the horizon for Black Friday. If you've been holding off on purchasing something, this might be your golden ticket. From electronics to apparel, home goods to personal care items, the discounts are staggering.
But wait, there's more! If you're a savvy shopper (and I know most of you are), you're not just relying on the Black Friday sales. Oh no, you're looking to stack those discounts, and that's where the magic of coupon apps comes into play.
In another of my blogs, I've listed out the best coupon apps that can help you squeeze the most value out of every dime you spend. Think of it as your personal tool to wander through the maze of deals, ensuring you emerge victorious with the best bargains in tow.
Before diving into the Thanksgiving festivities, take a moment to check out my guides on Black Friday 2023 and the Best Coupon Apps. Arm yourself with this knowledge, and you'll be all set to conquer the shopping season. Remember, a penny saved is a penny earned!
Thanksgiving, with its rich history and evolving traditions, is a day of reflection, gratitude, and abundant love. Whether you're planning a traditional family gathering or a lively Friendsgiving, the essence remains the same.
As Thanksgiving 2023 approaches, may your preparations be smooth, your feasts delectable, and your heart full of gratitude. Celebrate the old, embrace the new, and cherish the moments with loved ones. Here's wishing you a Thanksgiving brimming with joy, laughter, and unforgettable memories!