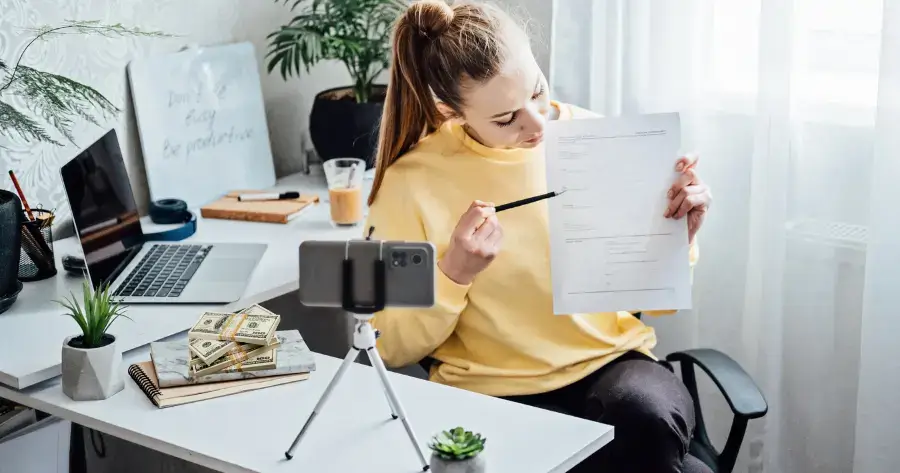 Are you a college student grappling with finances and looking for side hustles? Relying solely on part-time jobs or parental support is often not enough for Textbooks, rent, and groceries—the expenses pile up faster than you can say "tuition fees." Student loans, waiting to rain down payments upon graduation, are added to the burden.
This is where side hustles come into play. The beauty of a side hustle is its flexible hours; it allows you to earn extra income without compromising your studies. Whether you're trying to ease the pressure of monthly bills, save for that backpacking trip, or chip away at your student loans, this blog will serve as your ultimate guide.
We'll explore different categories of side hustles perfect for college students, focusing on effective time management methods with convenience, potential for earning, and how to get started. So, if you're a student looking to turn your financial tides, get ready to whirl your magic around better financial accustoms.
Online Money-Making Side Hustles
Freelance Writing
If you have a way with words, then freelance writing could be your golden ticket to financial freedom. There are numerous platforms like Upwork, Freelancer where you can offer your writing services and start making money in college itself.
Types of writing can range from blog posts and articles to resumes and cover letters. The pay varies greatly depending on the project and your experience level. But here's the kicker: you can even specialize in topics related to your major, enhancing both your portfolio and knowledge base.
Virtual Assistant Jobs for College Students
In our increasingly digital world, businesses are always on the lookout for virtual assistants to handle tasks like data entry, customer service, and calendar management. This can be an excellent side hustle for beginners if you're organized and enjoy administrative work.
You can look for opportunities on websites like Belay or Time Etc. The job usually pays by the hour, and the pay rate can be pretty decent, depending on the complexity of the tasks and your skill set.
Social Media Manager
A strong social media presence is crucial for businesses and brands in this digital age. If you're someone who spends a lot of time on platforms like Instagram, Twitter, or Facebook, why not get paid for it?
As a social media manager, you'd be responsible for posting updates, engaging with followers, and running ad campaigns. Websites like Toptal and Remote.co offer freelance social media management gigs that you can take on.
Content Creator
Platforms like YouTube and TikTok have opened up new avenues for content creation. If you have a particular skill or interest, be it cooking, fashion, or graphic design, you can create and monetize content around it.
Of course, the initial period might not be profitable, but once you gain a significant following, brands may start approaching you for collaborations.
Affiliate Marketing
Affiliate marketing as a side hustle? It involves promoting products and earning a commission on sales made through a unique affiliate link. Websites like Amazon Associates offer such programs that you can join. Once you're an affiliate, you can promote products through your blog or social media channels. The key to success in affiliate marketing lies in choosing the right products to promote.
If you're new to this, this comprehensive guide on affiliate marketing will help you out.
These gigs are an excellent way for college students to leverage their online presence into a profitable venture while juggling their busy academic lives.
Educational Services as a Part-time Job
Online Tutoring
Are you a whiz in calculus or a history buff? Consider sharing your knowledge through online tutoring. Websites like Chegg Tutors and Tutor.com offer a flexible schedule and work-from-anywhere jobs.
With the ongoing pandemic, the demand for online education has skyrocketed. Tutoring not only helps you earn as a side hustle in 2023 but also reinforces your understanding of subjects.
Essay Writing & Editing Services
If you possess a writing talent or have a keen eye for details, why not consider offering your valuable skills for essay writing or editing? Many students are searching for an exceptional editor who can refine their essays or even a mentor who can help guide them in organizing their thoughts.
By providing this assistance, you can empower students to surpass their own expectations and achieve their academic goals, and, at the same time, you will get paid to learn about something new every time you accept an assignment.
Resume and Cover Letter
As students approach graduation, the demand for well-crafted resumes and cover letters skyrockets. If you have a flair for professional writing and know what recruiters look for, this can be an excellent service to offer.
Educational services allow you to earn extra money and offer the satisfaction of helping others succeed academically. It's also a great way to reinforce your own knowledge and skills. Plus, you're shaping the future by aiding someone else's personal and academic development.
Digital & Tech Services can be your Cashing Side Hustles
Web Development & Design
Do you have a talent for coding or a skill for design? Trust us; these are gold mines in the digital age. Web development and design aren't just geek-speak; they're your ticket to monetary privilege.
Imagine crafting beautiful, functional websites that businesses are willing to pay big bucks for. Platforms like Upwork and Toptal make it super easy for you to showcase your skills and reel in those clients.
But wait, there's more! As a student, this side gig does double duty. It fattens your wallet and builds an impressive portfolio that can give you a major leg up in the post-graduation job market. We're talking about the real-world experience that can set you apart from the sea of resumes with only academic achievements.
Search Engine Optimization (SEO)
Okay, let's talk SEO—Search Engine Optimization. Sounds techy and complicated, right? Wrong! It's essentially the art and science of boosting a website's visibility on Google, Bing, and other search engines. Because businesses are practically throwing money at people who can help them rank higher in search results.
But that's not the best part. The real win is how flexible and low-maintenance this can be. Once you've optimized a site, it's often a matter of monitoring and minor tweaks. It's a skill that's not only lucrative now but will stay relevant for years to come.
Creative & Artistic Endeavors as a Part-time Job
Craft Arts
If you're artistically inclined and enjoy creating with your hands, consider selling handmade crafts. Websites like Etsy provide an ideal platform to sell your handmade goods, whether it's jewellery, home decor, or custom artwork.
Not only does this allow you to monetize your talents, but it also offers a creative outlet. If you're wondering how to go about setting up your Etsy shop, here's a complete guide to selling on Shopify.
Online Yoga Classes
In today's remote work environment, the need for physical and mental wellness is more crucial than ever. Offering online yoga classes can be a fantastic way to make extra money while promoting a balanced lifestyle. With the rise of platforms like Zoom or Skype, you can easily conduct classes from the comfort of your own home.
This side hustle aligns with remote work needs and taps into the growing online fitness and wellness trend, making it one of the best ways to make extra money in 2023.
Graphic Design can be Your Creative Flair Cash!
Showcase your talent on platforms like 99designs! This is no ordinary doodling, as it can bring in serious cash. Imagine working from the comfort of your own dorm room or local coffee shop while juggling projects around your class schedule.
The possibilities are endless! Each design you create isn't just pocket money; it's a portfolio piece, a stepping stone to bigger opportunities post-college. So why wait? Unleash your inner artist, and let the commissions roll in!
Photography & Videography
If you want a thrilling and rewarding side hustle with a keen eye and a decent camera, you can offer your photography or videography services and make some serious cash!
The possibilities are endless, with endless opportunities to snap stunning event photos, breathtaking portraits, or sellable stock images. Let your creativity soar and turn your passion into a profitable venture!
Side Hustles are the Best way for students to get Extra earnings
Having a side hustle is no longer just a 'nice-to-have,' it's a 'must-have.' Whether you're tech-savvy, a service superstar, or a creative genius, there are side hustles for everyone that align with their skillset and schedule.
So why wait? Start transforming your extra time into extra money and make your college life survivable and thriving with many such beneficial tips from BucksBeyond.